Personal bankruptcy is commenced by an individual filing Chapter 7, 11, 12 or 13. The most common is Chapter 7. The debtor is allowed to exempt certain property from liquidation by the trustee. The list of exempt property includes homesteads, household furniture and furnishings, jewelry, clothing, interests in an automobile, tools of the trade, pensions, insurance policies, a "wild-card" or "grubstake" exemption of $15,000.00, and other assets. Individual states are allowed to "opt-out" of the federal exemptions and provide their own lists. Exemptions can thus vary widely from state to state.

The "automatic stay" goes into effect immediately upon the filing. This stay prohibits any act to collect money or take property from the debtor. It stops wage garnishments, foreclosures, repossessions, and the like. The stay usually remains in effect throughout the case.

Reasons for Denial of Discharge of Debts

The individual debtor usually is discharged from legal liability for his debts, and receives a "fresh start". A discharge will be denied for improper activity, including:
Transferring property prior to bankruptcy to defraud creditors
Failing to list assets or debts
Destroying financial records
Failing to explain loss of assets
Failing to obey court orders
Failing to turn over records to the trustee
Discharge of Debts
Certain debts are not wiped out by the filing of bankruptcy, including:
Many taxes
Alimony, child support and related debts
Most educational loans
Criminal fines, penalties, and restitution debts
Debts incurred as the result of drunk driving
Debts arising from fraud, theft and embezzlement
Debts for willful and malicious acts
Debts which are reaffirmed.
Bankruptcy is often a very effective tool for obtaining relief from oppressive debt. The benefits of filing should be reviewed on a case-by-case basis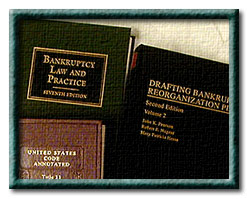 with a full review of all other options. Special attention should be given to whether the debtor will receive a discharge, and the effects of the discharge. Spouses of debtors often receive indirect relief from a bankruptcy discharge, without having to file a petition. Bankrupcy can be helpful in dealing with secured creditors, and often allows a debtor to retain property and reduce his payments. The co-debtor stay for consumer debts in Chapter 13 provides some relief for a debtor's co-signers.
Contacting Us
If you would like more information concerning personal bankruptcy or other related legal matters in the State of California, Attorney Henry Rendler is available for consultation. Please feel free to call 408.293.5112 to set up an appointment.